Inspection, maintenance, examination
---
Before each use, the roundsling/webbing sling should be inspected for defects and to ensure that the identification and specification are correct. A sling that is unidentified or defective should never be used, but should be referred to a competent person for examination.

During the period of use, frequent checks should be made for defects or damage, including damage concealed by soiling, which might affect the continued safe use of the sling. These checks should extend to any fittings and lifting accessories used in association with the sling. If any doubt exists as to the fitness for use, or if any of the required markings have been lost or become illegible, the sling should be removed from service for examination by a competent person.

Examination periods should be determined by a competent person, taking into account the application, environment, frequency of use and similar matters, but in any event, slings should be visually examined at least annually by a competent person to establish their fitness for continued use.

Records of such examinations should be maintained.

Any damage evident in the cover indicates potential damage to the loadbearing core.

Damaged slings should be withdrawn from service.

WARNING! Never attempt to carry out repairs to the slings yourself. Roundslings should not be stored in direct sunlight or sources of ultraviolet radiation.

Examples of conditions likely to affect continued safe use:
Surface chafe, in normal use, some chafing will occur to the surface fibres of the cover. This is normal and has little effect. Still, this effect vary and when the progress proceed some loss of strength can be expected.

Any substantial chafe, particularly localized, should be viewed critically. Local abrasion, as distinct from general wear, can be caused by sharp edges whilst the sling is under tension, and can lead to the cover becoming cut and/or serious loss in strength.

Cuts in the cover, cross or longitudinal, or any damage to the stitching, raise serious doubts as to the integrity of the core. The core of the round sling is exposed.

Cuts on the strap, cross or longitudinal, cuts or rub of edges, cut through seams or eyes.

Chemical attack, results in local weakening and softening of the material. This is indicated by flaking of the cover surface which may be plucked or rubbed off.

Heat or friction damage. This is indicated by the fibres of the cover material taking on a glazed appearance and in extreme cases, fusion of the fibres can occur, indicating a weakening of the core.

Damaged or deformed fittings.
---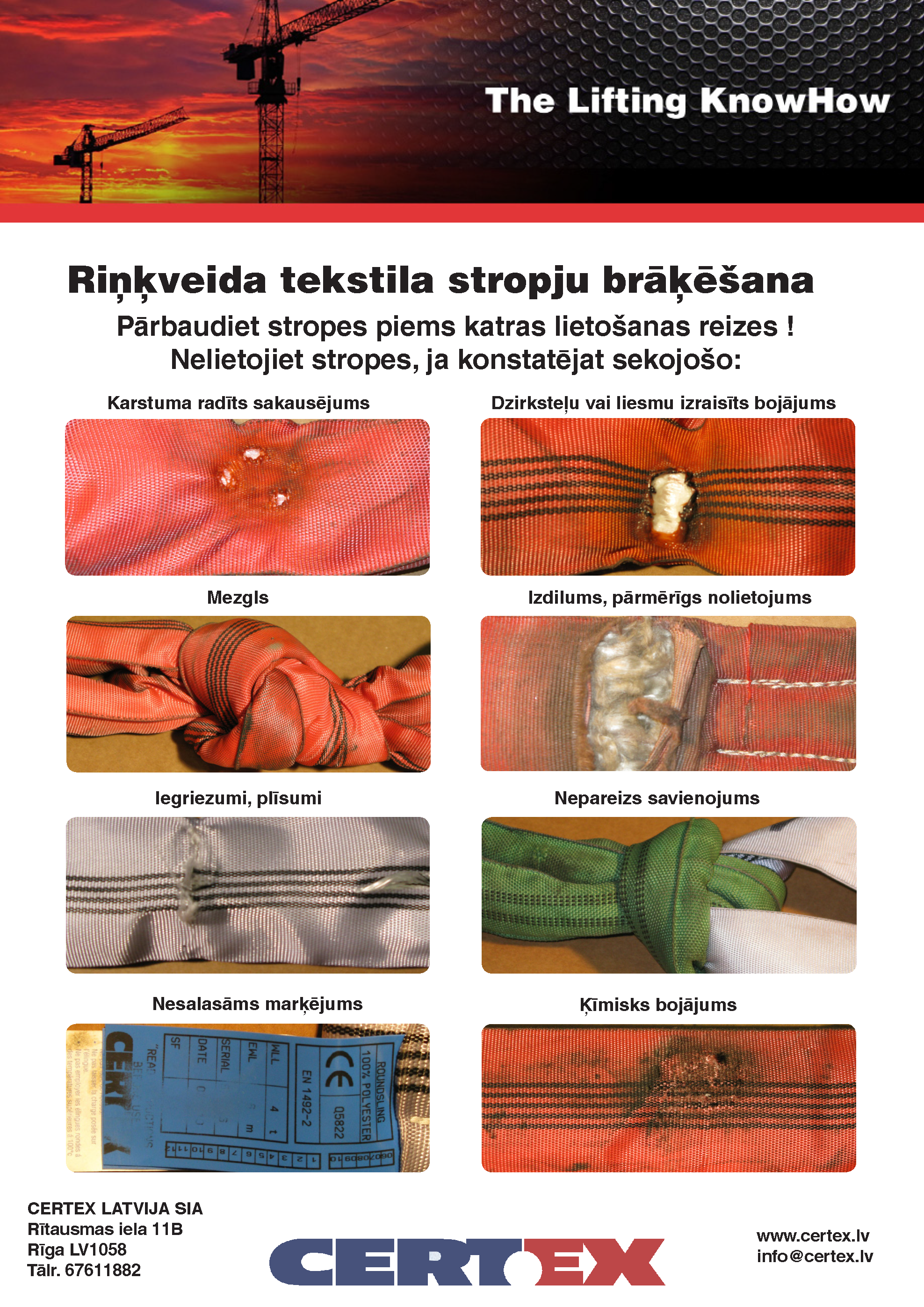 Do you have questions?
Contact the CERTEX sales team or fill out the form below