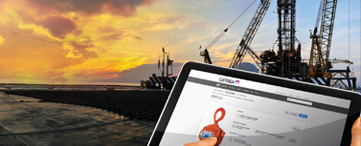 Repair and Maintenance:
Manual hoists

Chain and steel wire rope slings

Electic hoists

Steel wire rope lubrication

Other lifting equipment
Our services include repair and maintanace, Fibre Rope and Wire Rope Hand splicing, Wire rope socketing with white Metal, Zinc or resin on site if required, lubrication of steel wire ropes, installation of steel wire ropes, height safety systems and lifting equipment. We also offer industrial and or maritime rigging services.
Test bench
With Scandinavians largest test bench have we now expand our capacity to 1 200 t
We can preform pulling test on lifting equipment such as:
- Steel wire rope
- Chain, chain accessories, hooks, rings
- Crane hooks, blocks
- Fiber ropes, mooring lines, hawsers, single buoy moorings
- Lifting beams, brackets, triangles
Interesē aprīkojuma pārbaude?
Aizpildiet zemāk redzamo formu un piesakiet laicīgi aprīkojuma pārbaudi: