Typical applications: Very flexible construction with a high breaking load. Hoist rope for electrical hoist and other lifting devices, where rotation resistant ropes are not required.

Design: Ordinary lay and Lang's lay. Ordinary right hand lay, ordinary left hand lay can be offered.

Fill factor: 0,64.
Standard: EN 12385-4
ISO 4309 Rope Category No: 4-5mm RCN.02, 5,5-6.5mm RCN.07, 7-28mm RCN.08
Rope construction: 8 strand rope in parallel lay construction made out of conventional strands.
Finish: Bright oiled. Available galvanized.
Note: Due to its particular full unilay parallel closing (outer/inner strands), this rope is very sensible to the rotation and fleet angle. Cannot be used for big lifting heights, unguided loads a
Warning: Must never be used with a swivel.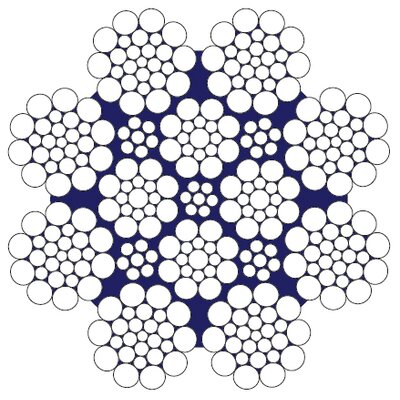 Select a row from the table below, then click the add to cart button