Features:
- All strands are compacted and rotary swaged.
- veropower 8 has an extremely high breaking strength and is very resistant against abrasion.
- veropower 8 is suitable for multi layer spooling systems with guided loads.
- veropower 8 is fully lubricated and made both of galvanized and ungalvanized wires.
- veropower 8 should not be used with a swivel.
ISO 4309 Rope Category No: Up to 40mm RCN.09, 41-46mm RCN.11, > 46mm RCN.13.
Rope construction: veropower 8 is an 8-strand non rotation resistant rope. It is a flexible steel-plastic combination rope with double parallel layed strands.
Standard: EN 12385-4
Overhead cranes

Mobile port crane

Offshore crane

Loading crane

Crawler crane

Container crane

Piling crane

Tower crane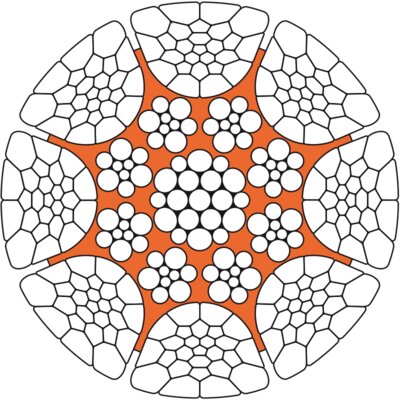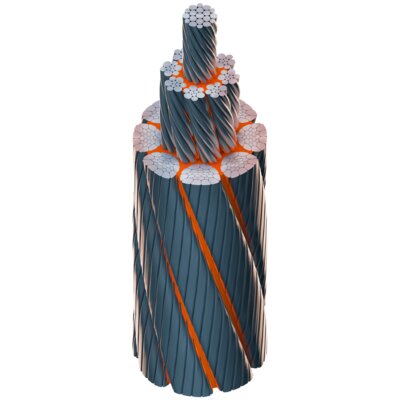 Currently this product cannot be added to an online quote. Please contact us directly for enquires.
Art No

Wire Rope

Steel

Minimum breaking strength

Weight

Galvanized, right hand ordinary lay

Ø

area

1960 N/mm2

2160 N/mm2

kg/

1960 N/mm2

mm

mm2

kN

tons

kN

tons

100m

01.G13V8P120G

12

84

147,4

15,0

158,8

16,2

72

01.G13V8P130G

13

99

173,0

17,6

186,4

19,0

84

01.G13V8P140G

14

115

200,6

20,4

216,2

22,0

98

01.G13V8P150G

15

132

230,3

23,5

248,2

25,3

112

01.G13V8P160G

16

150

262,0

26,7

282,3

28,8

128

01.G13V8P170G

17

170

296,8

30,1

318,7

32,5

144

01.G13V8P180G

18

190

331,6

33,8

357,3

36,4

161

01.G13V8P190G

19

212

369,5

37,6

398,1

40,6

180

01.G13V8P200G

20

235

409,4

41,7

441,2

45,0

199

01.G13V8P210G

21

259

451,3

46,0

486,4

49,6

220

01.G13V8P220G

22

284

495,3

50,5

533,8

54,4

241

01.G13V8P230G

23

310

541,4

55,2

583,4

59,5

264

01.G13V8P240G

24

338

589,5

60,1

635,3

64,7

287

01.G13V8P250G

25

367

639,6

65,2

689,3

70,2

311

01.G13V8P260G

26

397

691,8

70,5

745,6

76,0

337

01.G13V8P270G

27

428

746,1

76,0

804,0

81,9

363

01.G13V8P280G

28

460

802,4

81,8

864,7

88,1

391

01.G13V8P290G

29

493

860,7

87,7

927,5

94,5

419

01.G13V8P300G

30

528

921,1

93,9

992,6

101,1

448

01.G13V8P310G

31

564

983,5

100,2

1.066

108,0

479

01.G13V8P320G

32

601

1.048

106,8

1.129

115,1

510

01.G13V8P330G

33

639

1.115

113,6

1.201

122,4

542

01.G13V8P340G

34

678

1.183

120,6

1.275

129,9

576

01.G13V8P350G

35

719

1.254

127,8

1.351

137,7

610

01.G13V8P360G

36

760

1.326

135,2

1.429

145,7

646

01.G13V8P380G

38

847

1.478

150,6

1.593

162,3

719

01.G13V8P400G

40

939

1.637

166,9

1.765

179,8

797

01.G13V8P420G

42

1.035

1.805

184,0

1.946

198,2

879

01.G13V8P440G

44

1.136

1.981

201,9

2.135

217,6

964

01.G13V8P450G

45

1.188

2.072

211,2

2.233

227,6

1.009

01.G13V8P460G

46

1.241

2.166

220,7

2.334

237,8

1.054

01.G13V8P480G

48

1.352

2.358

240,3

2.541

258,9

1.148
| | | | | | | | | | | | |
| --- | --- | --- | --- | --- | --- | --- | --- | --- | --- | --- | --- |
| Diameter | Total number | Outer strands | Number of wire break at discard | | | | Average | | | Elasticity | Elongation |
| Ø | of wires | number of wires | Regular lay | | Lang´s lay | | fill | spin | weight | modulus | under 3% |
| mm | | | 6 x d | 30 x d | 6 x d | 30 x d | factor | factor | factor | (kgf/mm²) | of MBL |
| 8-42 | 327 | 208 | 18 | 35 | 9 | 18 | 0,67 | 0,87 | 0,88 | 12900 | 0,276 |
| 43-48 | 367 | 248 | 21 | 42 | 10 | 21 | 0,67 | 0,87 | 0,88 | 12900 | 0,276 |
| 49-60 | 407 | 288 | 24 | 48 | 12 | 24 | 0,67 | 0,87 | 0,88 | 12900 | 0,276 |