General: These RED ROOSTER Air Chain Hoists are especially developed for heavy industrial use. Robust cast steel body.
Valve block is the same for all modells meaning: less spare parts required. Standard with load limiter.

- Optimum control of the load, very precise positioning
- Compact design
- Mechanical endstop system
- Load limiter built-in without loss of headroom
- Cord control or pendant control
- Low noise level
- Air pressure 0,4 - 0,63 MPa (4 - 6,3 Bar)
Optional features:
- Marine Specification/Corrosion resistant
- Paint systems from C2 - Industrial to C5 - Offshore specification (Red finish as standard. Other RAL colours available on request)
- Choice of pendants
- Radio control pendant for electro pneumatic controls
- Control systems
- Chain collectors (PVC, galvanised or stainless steel)
- Various types of hook or clevis available
- Air supply systems and valves
- Piped away exhaust air
- In house design for "specials"
- Festoon systems
- Main air shut off valve
- ATEX - According to EC Directive 94/9/EC (Ex Classification)
Features: Precise variable speed control (cord- and pendant control)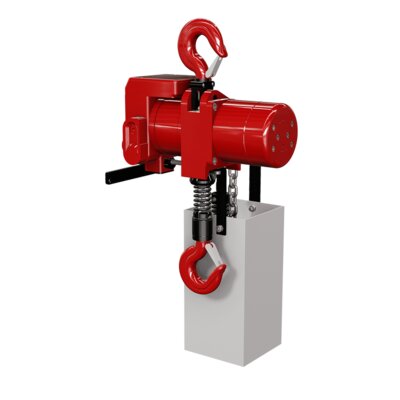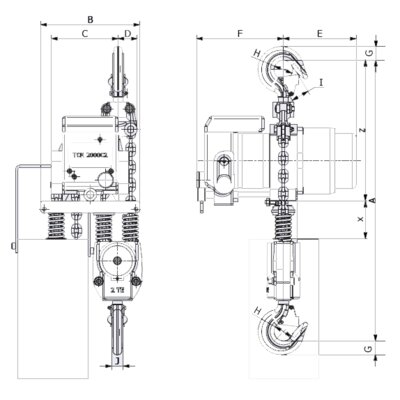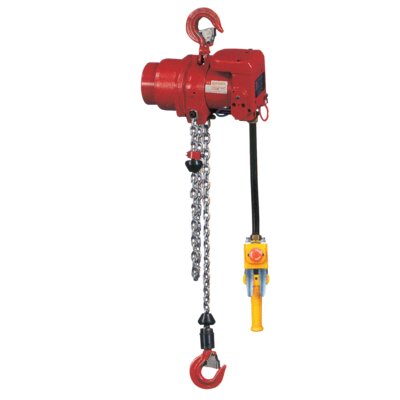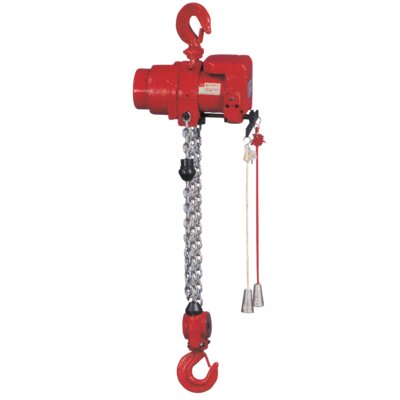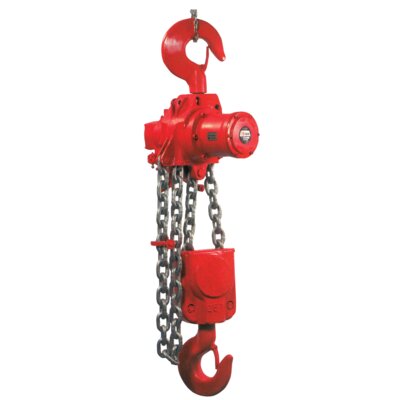 Select a row from the table below, then click the add to quote button
Download CAD

Download CAD by choosing the desired product from the table above and the format from the menu below. Click "Get CAD" and after the load reaches 100% you can click on the download icon to download it. Please note that CAD drawings are only available if the icon at the right side of the table above is colored and not grayed out.
Technical information

| | | | | | | | | | | | | |
| --- | --- | --- | --- | --- | --- | --- | --- | --- | --- | --- | --- | --- |
| Model | A | B | C | D | E | F | G | HØ | I | J | X | Z |
| TCR-1000 | 485 | 212 | 116 | 40 | 156 | 186 | 29 | 40 | 29 | 25 | 100 | 250 |
| TCR-2000 | 580 | 212 | 143 | 50 | 156 | 186 | 37 | 45 | 29 | 30 | 100 | 280 |
| | | | | | | | | | | | | |
| --- | --- | --- | --- | --- | --- | --- | --- | --- | --- | --- | --- | --- |
| Model | A | B | C | D | E | F | G | HØ | I | J | X | Z |
| TCR-3000 | 563 | 212 | 51 | 115 | 156 | 186 | 29 | 40 | 29 | 25 | 100 | 335 |
| TCR-6000 | 690 | 270 | 65 | 185 | 247 | 202 | 49 | 65 | 42 | 42 | 100 | 410 |
| | | | | | | | | | | | | | | | | |
| --- | --- | --- | --- | --- | --- | --- | --- | --- | --- | --- | --- | --- | --- | --- | --- | --- |
| Model | A | B | C | D | E | F | G | HØ | I | J | K | L | M | N | X | Z |
| TCR-9000 | 842 | 378 | 114 | 140 | 247 | 202 | 60 | 75 | 53 | 42 | 370 | 439 | 220 | 240 | 100 | 380 |
| TCR-12000 | 950 | 346 | 118 | 228 | 202 | 247 | 67 | 84 | 58 | 52 | 396 | 493 | 233 | 224 | 100 | 390 |
| TCR-15000 | 950 | 403 | 110 | 293 | 211 | 238 | 67 | 84 | 58 | 52 | 391 | 431 | 230 | 280 | 100 | 390 |