Rotates through 360° and pivot 90°.
Manufactured from alloy steel, quenched and tempered.
Load rated parts are 100% magnaflux crack detected.
Individual forged parts and cap screw are traceable to Test Certification.
Bolts are Metric thread (ASME / ANSI B18.3.1M), specification is grade 12.9 alloy socket head screw per DIN EN ISO 4762.
Individually proof tested to 2.5 times the WLL.
Fatigue rated to 1.5 times the WLL.
All YOKE Lifting points meet or exceed all the requirements of ASME B30.26.
Quick and simple assembly, just a tapped hole is required."
Material: Alloy steel, quenched and tempered.
Marking: According to standard, CE-marked, WLL, size, steel quality, manufacturer ID and traceability.
Temperature range: -40° up to +200°C (without reduction in WLL).
Finish: Painted.
Standard: EN 1677-1
Note: Built-in RFID/NFC chip
Safety factor: 4:1
Grade: 10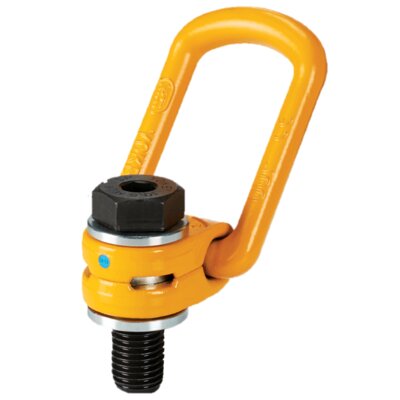 Lifting Point 8-211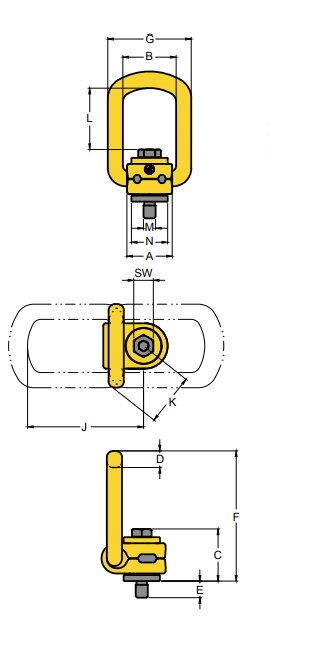 Currently this product cannot be added to an online quote. Please contact us directly for enquires.
No of
legs

1

2

1

2

2

2

3-4

3-4

2

3-4

Angle of indication

0°

0°

90°

90°

0°-45°

45°-60°

0°-45°

45°-60°

unsym

unsym

Thread

Load capacity tons

M 8

0,3

0,6

0,3

0,6

0,42

0,3

0,63

0,45

0,3

0,3

M 10

0,63

1,26

0,63

1,26

0,88

0,63

1,32

0,95

0,63

0,63

M 12

1

2

1

2

1,4

1

2,1

1,5

1

1

M 14

1,2

2,4

1,2

2,4

1,7

1,2

2,5

1,8

1,2

1,2

M 16

1,5

3

1,5

3

2,1

1,5

3,1

2,2

1,5

1,5

M 18

2

4

2

4

2,8

2

4,2

3

2

2

M 20

2,5

5

2,5

5

3,5

2,5

5,2

3,7

2,5

2,5

M 24

4

8

4

8

5,6

4

8,4

6

4

4

M 27

4

8

4

8

5,6

4

8,4

6

4

4

M 30

5

10

5

10

7

5

10,5

7,5

5

5

M 36

7

14

7

14

9,8

7

14,7

10,5

7

7

M 36

8

16

8

16

11,2

8

16,8

12

8

8

M 42

10

20

10

20

14

10

21

15

10

10

M 42

15

30

15

30

21

15

31,5

22,5

15

15

M 48

20

40

20

40

28

20

42

30

20

20

M 56
22
44
22
44
30.8
22
46.2
33
22
M 64
22.5
45
22.5
45
31.5
22.5
47.25
33.75
22.5